This article will discuss refunds from campground reservations.
You may be wondering why you did not receive a refund for your cancelled reservation that you made through RoverPass. Every campground and RV Park is able to set their own cancellation policy. Some are more lenient than others. Some will give a partial refund, or a full refund when a reservation is cancelled. Others will not allow for a refund at all, or will not allow one within a certain time period before your reservation is to begin.
The cancellation policy for the campground is stated in two places while you are making your plans, allowing you to review it before you submit your reservation request. We advise that you read this and consider it carefully before you make your decision to complete the reservation request.
Please see the two pictures below to see where the cancellation policy is shown. The first picture is on the RoverPass listing, along with the description of the campground, policies, rates, and other important information. The second picture is on the second page of the reservation request, right below the red rectangle that says "Complete Reservation."
If you have any questions, please reach out to us via this form.
On RoverPass listing: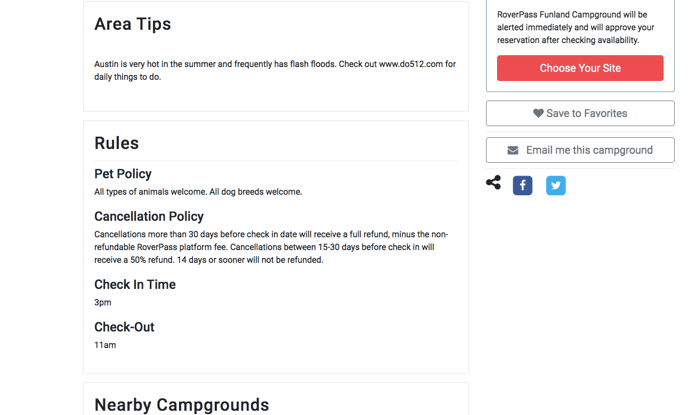 On the second page once you click "Choose Your Site":