How to Use Multiple Payments & Invoices in RoverPass
Reservation Balance
How Do I Know What I Am Still Owed by a Guest?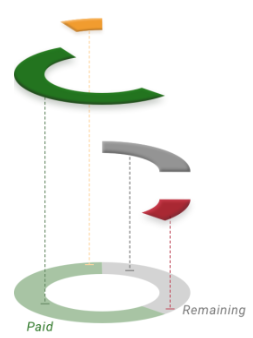 A Balance Bar can be seen at the top of each 'Reservation Details' page displaying a snapshot of how much money is still owed on the reservation. The Summary Circle shows the following:
Yellow = Refunded
Green = Paid
Gray = Remaining
Red = Due (Any amount encompassing the 'Remaining' section that has passed the invoice due date)
The Balance of a Reservation will change when:
A new invoice is created - See Add an Invoice
Line Items are added to an invoice - See Editing an Invoice

An invoice is voided - See Void an Invoice

A reservation with unpaid invoices is cancelled

(Outstanding invoices are automatically voided and the balance is affected as mentioned in the bullet point above)

An invoice is paid or refunded


Updates proportions in the Summary Circle
The green '$' will still show on the Reservation Calendar to signal money due on a reservation. Once all invoices are marked paid and the Remaining Balance on the reservation is $0, the green '$' will disappear.