RoverPass allows you to choose how far in advance of the Due Date an invoice is sent to a guest and sends reminders if the guest does not pay on time!
Set Your Send Date:
This can be done in two ways:
Account Wide
Override on an Individual Invoice
Account Wide Setting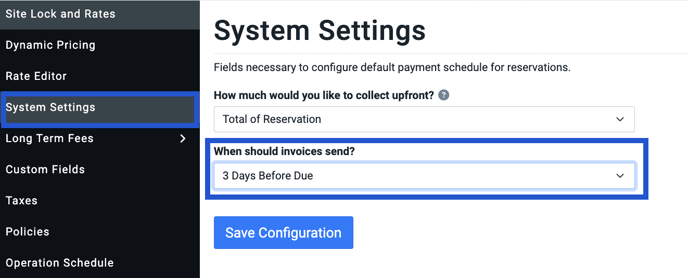 Navigate to your 'System Settings' tab in the left navigation bar of your RoverPass Owner Portal.

Select when you would like all invoices for your account to send

3 Days Before Due

2 Days Before Due

1 Day Before Due

On Due Date

Do Not Send (Not Recommended)
RoverPass offers the option 'Do Not Send' to allow payment to be collected upon arrival. However, RoverPass encourages collecting payment at the time of booking (or as close to it as possible!) to ensure that you get paid and are able to enforce your Cancellation Policy.
Override on an Individual Invoice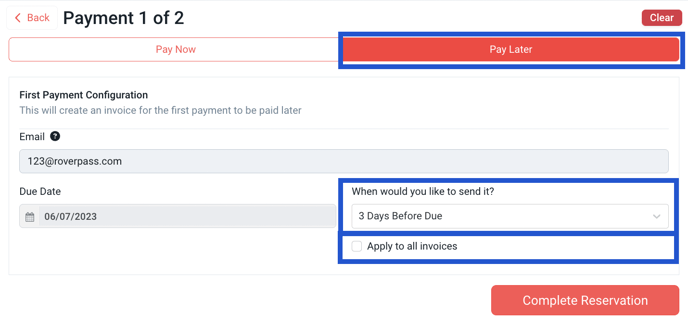 On the last page of reservation creation, select the 'Pay Later' option
Select when you would like to send your first invoice

(This will default to your Account Wide Setting)
Immediately
On Due Date
1 Day Before Due
2 Days Before Due
3 Days Before Due
Do Not Send (Not Recommended)

If you would like to apply this setting to all invoices on the individual reservation that you are creating, check 'Apply to all Invoices'
Click 'Complete Reservation'
Reminders
Once invoices are scheduled (reservation is created and Send and Due Dates are set), RoverPass will send out payment requests and reminders to your guests. These reminders include:
Sent (On Send Date)
Due Now (On the Due Date)
Past Due (Once the Due Date Passes)
Past Due with Late Fee Warning (Based on your Late Fee Configuration)
Past Due with Late Fees Applied (Based on your Late Fee Configuration)
Payment Reminders will stop after payment has been completed and a Payment Confirmation email will be sent to the guest for their records.
It is recommended that you visit your Invoices tab regularly to evaluate what is due and past due to decide if reservations should be marked as paid, kept on the books, or cancelled to open the site for another guest to book.
---
Travelers Payment Options:
When the traveler receives their Payment Reminder email they will be provided with a link to a secured payment page where they can:
Pay their invoice balance and any other associated fees
Pay by credit or debit card
Save their card on file for future use
Agree to Cancellation Policy and ToS by selecting a checkbox
---
Payment Reminder Emails
Take a look below at the various Payment Reminder emails we send out to campers to encourage timely payments!
Due Now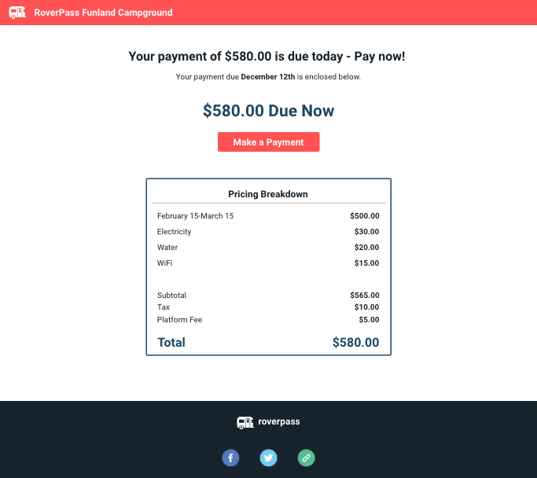 Past Due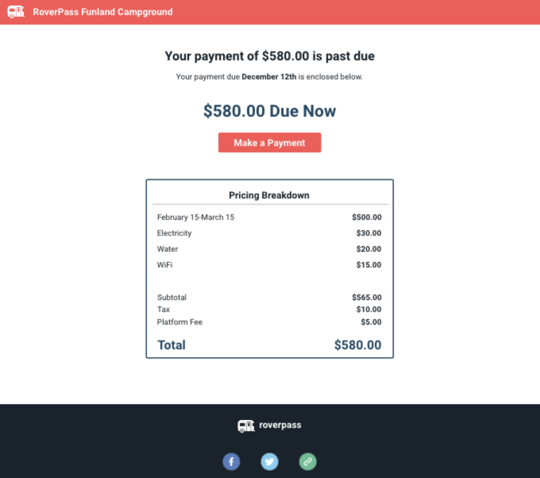 Past Due with Late Fee Warning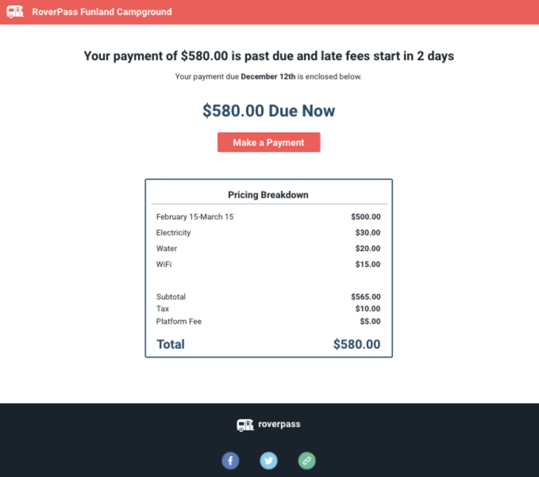 Past Due with Late Fees Applied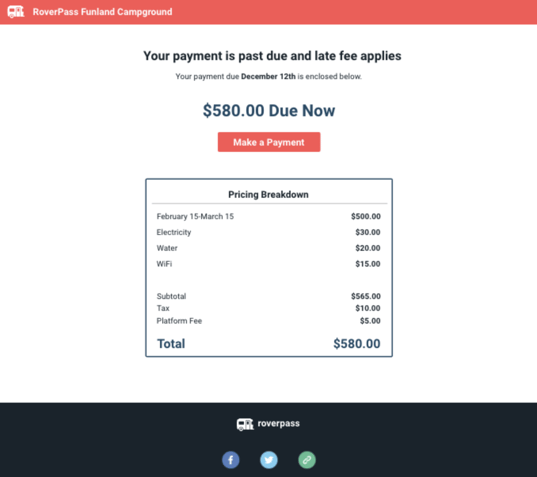 Payment Confirmation Page