Invoices allow owners to easily access the important details of upcoming installments, filter payments by status or reservation, and update fees so that they can manage and request payment from guests accordingly!
Key Functions of the Invoice Feature:
Owners can easily edit Scheduled Invoices to include utility fees, late fees, etc.
When you create a reservation with multiple payments, Scheduled Invoices are automatically created for you!
Scheduled Invoices tie into our automated payment reminders which are sent to guests and include a link for them to process the payment due.
When a guest processes payment through a payment reminder the associated Invoice Status will automatically be updated to Paid.
Owners can filter their Invoices from the Invoices tab to see just Past Due Invoices. This helps you easily identify guests who are late on payment!
How to Navigate the 'Invoices' Tab
Step 1: Login through the RoverPass Owner Portal Sign In Page
Step 2: Create a reservation with 'Multiple Payments' - checkout this article here for details on Creating a Reservation with Multiple Payments
Step 3: Once you have completed a reservation with 'Multiple Payments', click into the 'Invoices' tab in your left hand navigation bar
Step 4: Next, you can search the reservation by name to pull up all invoices associated with that reservation.
This page provides a quick overview of your invoices with Amount, Invoice Status, Reservation ID, Site and Name.

Step 5: Click anywhere on the Invoice line to open and see Invoice Details, here you will be able to access invoices in different Status' and manage them accordingly.
Invoice Status Categories
Depending on the 'Status' of the Invoice, you can manage your invoices through many tools that our feature provides.
All Invoices
See the Invoice Timeline - this shows the important events that took place on the invoice (date created, sent, paid, etc.)
View Reservation Details
Resend the Invoice to a Guest
Void Invoice

Paid
Print off a copy of the invoice
Send a receipt to the camper
See the date the invoice was paid
Sent
See all of the guests contact & reservation details pertaining to the invoice
Complete payment for an invoice using the Campers Payment Card on File or processing via an alternate payment method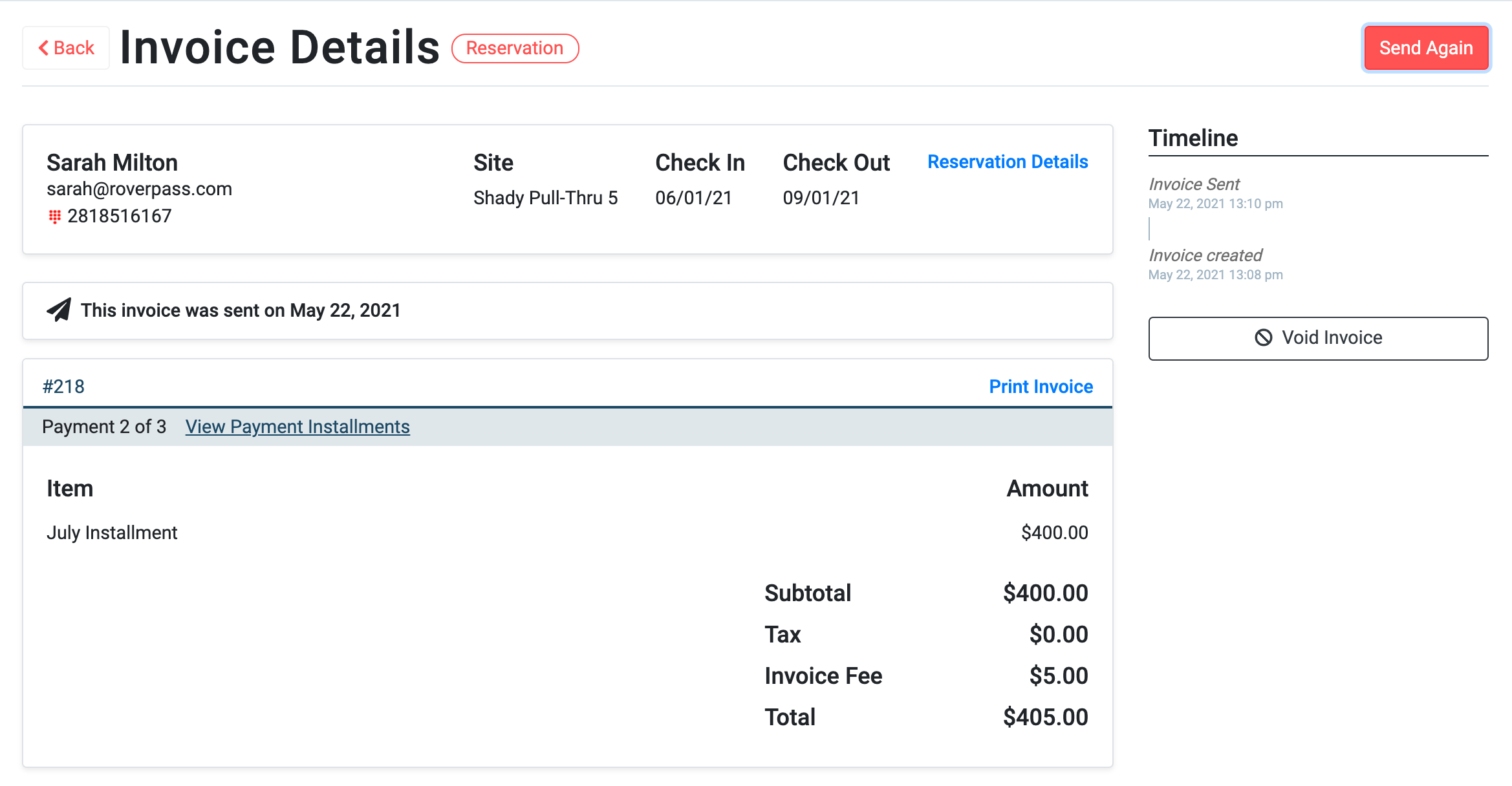 Scheduled
Edit the Invoice Item Name + Amount
Add Electric or Custom Fees
Edit the Invoice Reminder Date - Campers will get an automatic email Invoice Reminder sent 7 days prior to the invoice Due Date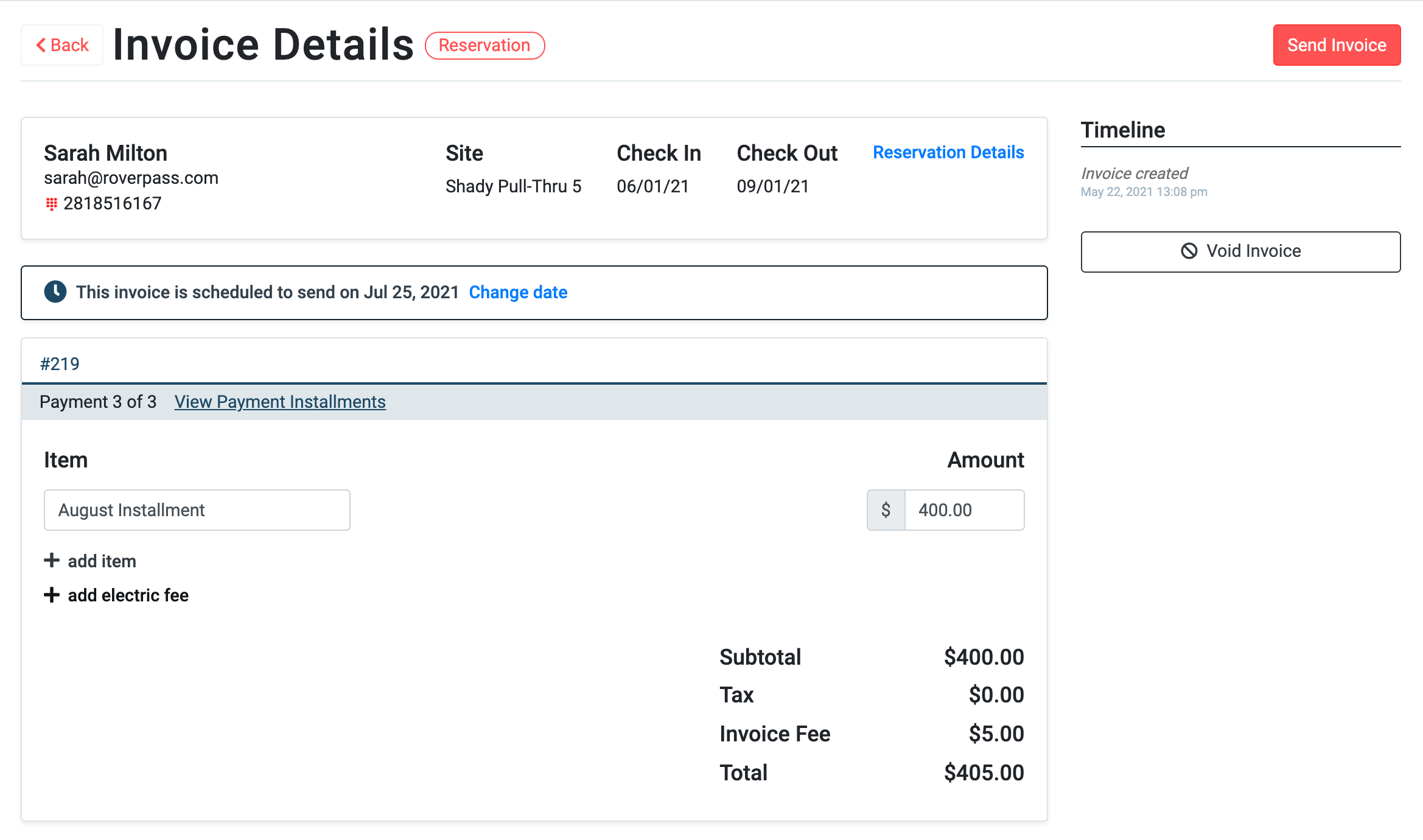 Overdue
Click 'Send Again' to resend the invoice to the guest to pay online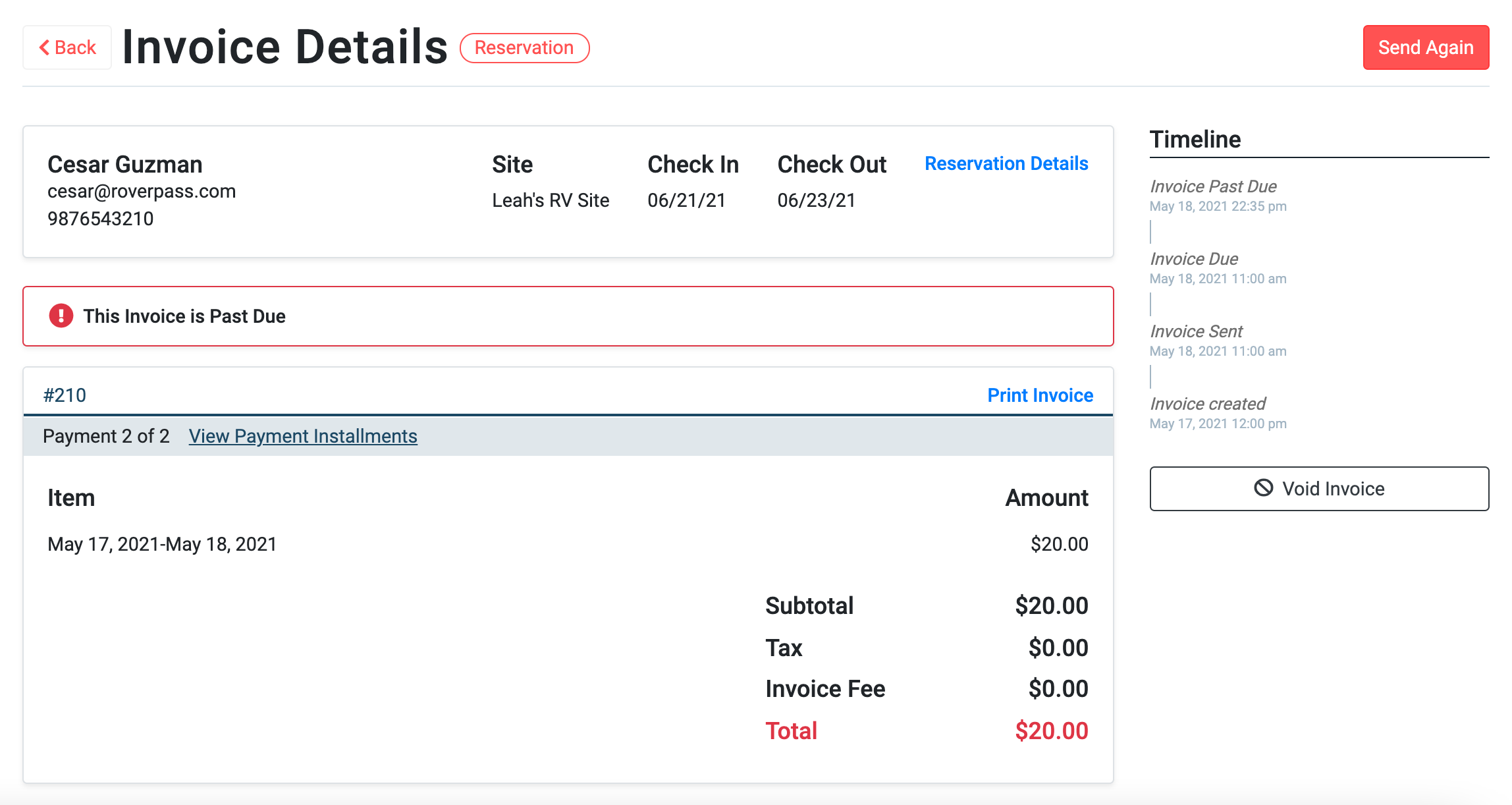 Voided
On the right hand side, click 'Void Invoice' to void an invoice for a guest that no longer requires payment (ex: cancellation for the upcoming month)