Our 'Send to Guest' feature makes it easy for guests to pay for any reservation - online themselves - on the due dates you choose!
RoverPass now offers a 'Send to Guest' feature, which allows you to enter your campers reservation information (camper details, dates, site type) and then send the Payment Request to your camper via email and complimentary text message. This Payment Request allows your campers to complete payment for their reservation at your park without having to collect the campers credit card information over the phone or waiting until they arrive for check-in.
Our Send to Guest feature will:
Allow you to request payment from your camper before they arrive to help protect your revenue in the event of last minute cancellations!
Allow you to accept reservations making payment with credit card, even if you do not have a credit card processor!
How to Send a Payment Request to a Camper
Step 1: Login through your RoverPass Owner Portal Sign In Page
Step 2: Proceed with creating a reservation by following the steps outlined in the article 'How to Create a Reservation'
When creating a reservation, the guest's email is required to be entered to utilize our 'Send to Guest' feature.
Step 3: Once you have reached the 'Payment and Fees' page, select an option for 'How would you like to be paid?' (In Full, Multiple Payments, Other)
'In Full' would be best used for short term stays (less than 29 days). We also recommend choosing the 'In Full' option to protect your campgrounds revenue from last minute cancellations.
'Multiple Payments' would be used for long term stays or splitting your payments based on your campground policy!


Create installments based on the length of stay or your campground policy (ex: 50% at Booking Reservation, 50% 7 Days Prior to Reservation Stay), then select the due date for each installment. This will automatically split your payments based on the number of installments you choose, or you can edit the amount you would like to charge for each installment.

'Other' would be used to change any fees that are currently configured for the reservation.


Please Note: If your camper's reservation total is 'Due Upon Check In', you will choose the payment method 'In Full', enter the 'Payment Due Date' as the reservation check-in date, and proceed by clicking 'Send to Guest'.
Step 4: After completing the above step, you will see the breakdown of the fees on the right hand side. At the bottom, you will see options for 'Proceed to Payment' or 'Send to Guest'
Step 5: Click 'Send to Guest' and a pop up will appear stating "This invoice will be sent to the guest to make payment. Please confirm to sent this payment request" with a breakdown of the fees.
Step 6: Click 'Yes, request payment' and an email and a complimentary text will be on the way to your guest to make a payment online!
What Does The Camper See with the 'Send to Guest' Feature?
Your guest will receive both an email and complimentary text message that contains a link to the payment request.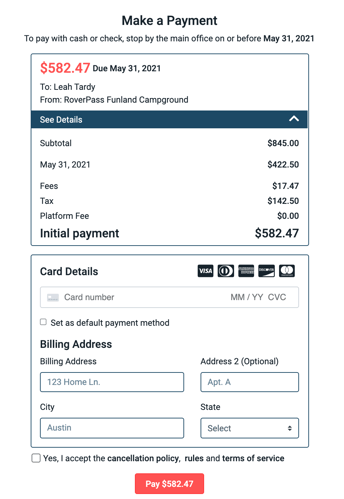 Guests will receive notifications via email and text for their payment before it is due, as well as on the due date and past due invoices! This automated messaging will alleviate time for you as the owner no longer needing to contact the guest directly regarding payment reminders.
How to Find Your Guest's Invoices
Step 1: Login through your RoverPass Owner Portal Sign In Page
Step 2: Navigate on the left hand side and click the 'Invoices' tab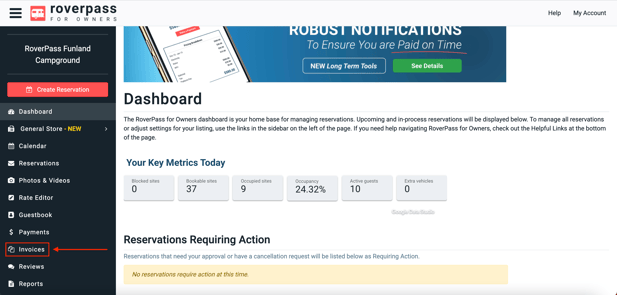 Step 3: On the 'Invoices' page, you will be able to view all invoices including information such as Due Date, Site, Camper Name, etc.
Step 4: You can filter by typing in the guest's name in the search bar at the top of the 'Invoices' page
Step 5: Click on the guest's invoice line to be able to view individual 'Invoice Details' such as the Invoice Timeline, Subtotal and Fees, etc.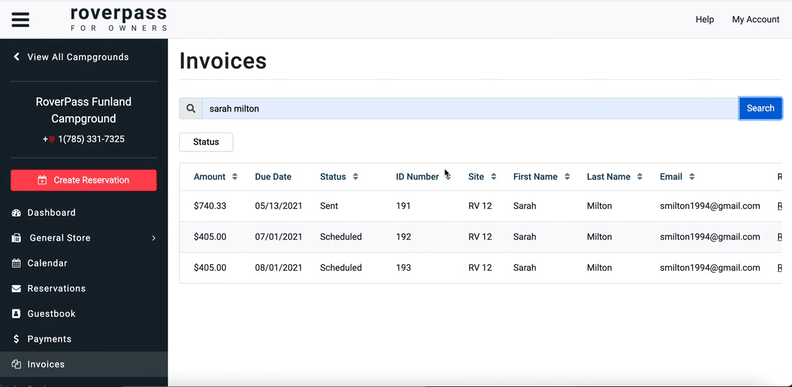 Tip: While in the 'Invoices' page, you will see a link under the column 'Reservation' that says 'Reservation Details'. By clicking this, it will take you directly to the guest's reservation, where you can utilize our chat feature, edit their reservation, and view more details!