This article will answer the question of what to expect when your camper who booked through RoverPass arrives to check in for their reservation.
A lot of campground owners have questions about what to do when the camper arrives for their stay. The short answer is: it depends!
There are several ways that your reservation system can be set up. You are able to choose what the camper pays when they make their reservation request, which will determine what you need to collect, if anything, when they arrive. There are five different options to pick from. The most popular is for them to pay the total amount of the reservation at the time they submit their reservation request. This includes the site fee, taxes, any additional fees you have set up (for pets, extra vehicles, additional people, etc) and the RoverPass service fee. This way, when they arrive, no monetary transaction needs to take place and they can get right to their site to enjoy their stay.
The other options are different variations of the camper paying only a portion of the total cost when they submit their reservation. You can choose for them to pay only the RoverPass service fee. You can also choose for them to pay a fixed amount of your choosing, plus the service fee. You can have them pay for a certain amount of nights (or one night), plus the service fee. Lastly, you can have them pay a percentage of their reservation total, plus the service fee. With any of these, you will need to collect the balance from them. Below, there is a video where you view in your RoverPass portal how much they owe, if anything, so that you can collect the correct amount.
There are a couple of things to keep in mind. If you only require a partial payment at the time at the time of booking, and you have a cancellation policy where there are no refunds, or a partial refund past a certain date, and they cancel after that, you will not be able to recoup the cost of the site. If campers pay up front, they are most likely more committed to the reservation since it requires a financial investment from them ahead of time. If you need to input your cancellation policy, or update it, you can find more information about that here.
Reservations that have been paid in full upon booking
Reservations partially paid with a balance owed
The camper will also have a confirmation email with details of what they have paid and what they owe if applicable.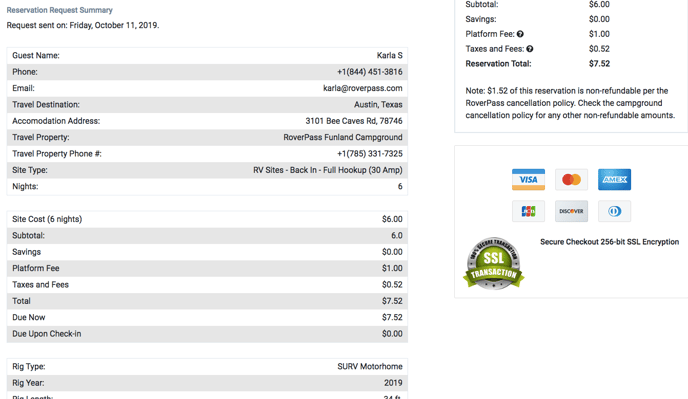 If you have any questions, please reach out to Customer Service! We can be reached at 844-451-3816.