Owners can find any payments or invoices, including their status, that are associated with a guest in their reservation's 'Payments' tab. This allows you to easily view payments specific to your guest, all in a single place!
Step 1: Login to your RoverPass Owner Portal
Step 2: Click the 'Reservations' tab on the left hand side
Step 3: You can find a specific reservation within the 'Reservations' tab through searching by last name or reservation code. Select the reservation that you would like to view their payments
Step 4: Once you have selected a reservation, you will be directed to the 'Overview' section of the reservation. Select the 'Payments' tab on the top tool bar of the reservation (Overview, Chat, Edit Reservation, etc.)
Step 5: In the 'Payments' tab, there will be two sections:
Payments and Custom Charges

This section will include the initial payment from the guest, as well as any custom charges the have been created for the guest

Invoices

This section will include all invoices that are associated with the reservation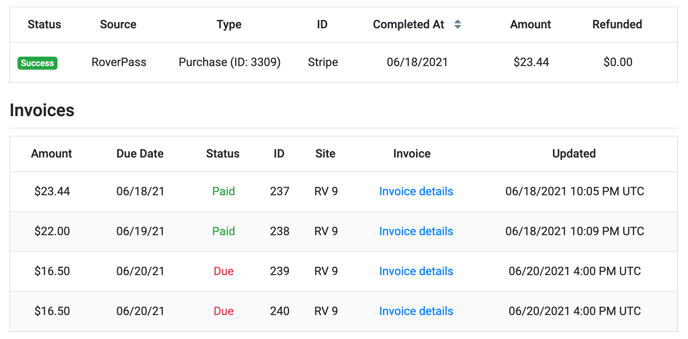 Under the Payments and Custom Charges section, you can see the status of a payment - this will show if the payment was successful (green) or if it has failed (red). If a payment has failed, you will need to recollect payment from the guest.
You can also view when the payment was completed, the amount, or if any amount from that specific charge has been refunded.
By clicking the blue 'Show' link, you can view any notes associated with a custom charge or payment.
To refund a 'Custom Charge', click the blue 'Refund' Link.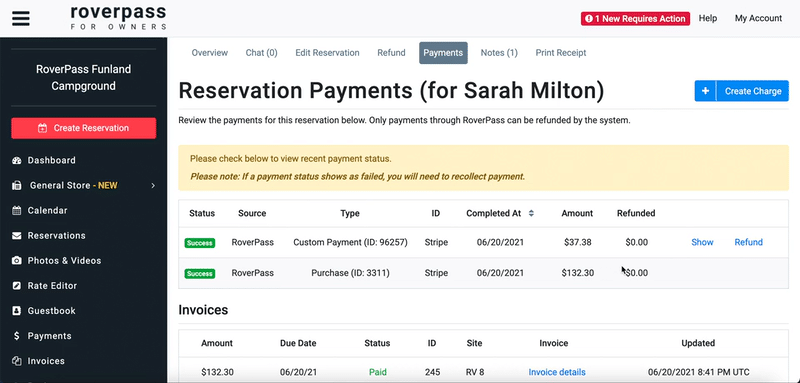 Under the Invoices section, you can view the amount of the invoice, the due date of the invoice and the current payment status of the invoice. To see a more detailed view of the invoice, you can click the blue 'Invoice Details' link to be taken directly to the invoice view. From there, you can make a payment on the invoice, add extra fees to a scheduled invoice, or see a timeline of the invoice.
For more details or help regarding Invoices, please click here to read our help article.