If a camper would like to pay with you at the campground on an invoice with credit card, cash, or check - follow these steps below to easily make a payment on an invoice!
Step 1: Navigate to the 'Invoices' tab, open a Sent or Scheduled Invoice by clicking anywhere on the line to view Invoice Details
Step 2: Navigate below the Payment Details to find the section titled Payment Method

Tip: If a guest would like to use a payment card on file, check 'Use customer's payment card on file' to easily process a credit card payment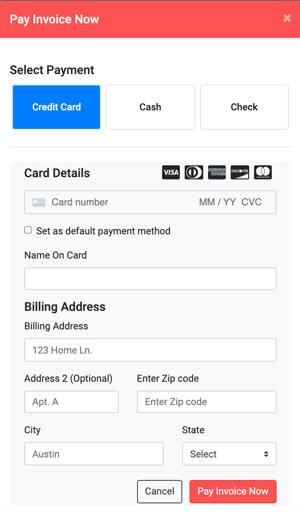 Step 3: Click the blue 'Pay Invoice Now' and a pop-up screen will appear
Step 4: You can then select Credit Card, Cash, or Check. Enter in payment details, and click the red 'Pay Invoice Now' button on the bottom right
Step 5: The invoice will now be automatically placed in the 'Paid' status after processing payment
Tip: If there is an outstanding invoice that is due prior to the invoice you have selected, you will receive a notification to ensure you are on the correct invoice to pay!