Owners & Travelers now have the ability to save a card on file when processing payments. This makes processing future transactions quick and easy!
How It Works: Owner View
Step 1: Create a Reservation using the 'Create Reservation' button in your RoverPass Owner Portal - checkout this article here for detailed instructions on how to create a reservation
Step 2: Once you enter in your Reservation and Camper Details, click the 'Proceed to Payment' button
Step 3: Collect the campers payment information, if the camper would like you to process future rent payments for them with no hassle, simply check the 'Save card on file for future use?' box
Step 4: Click the 'Book Now' button
You've completed this reservation and processed the first installment! For future transactions, simply click into the Scheduled Invoice, scroll down to the Payment Method section, and select the 'Use customer's payment card on file' box.
Saving Card on File - Owner View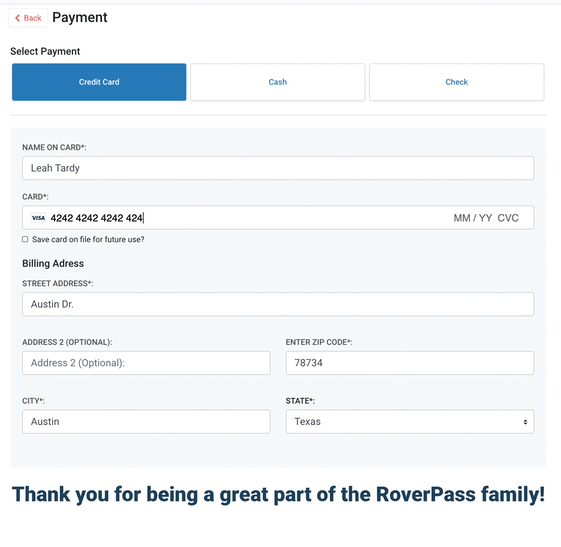 Card on File - Future Payments on Scheduled Invoices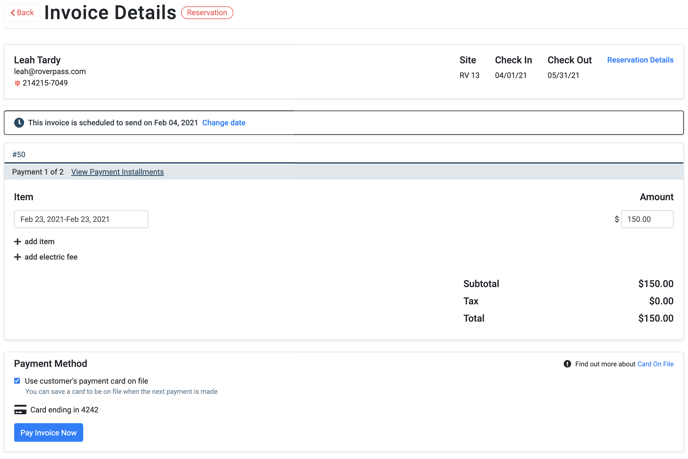 How It Works: Camper View
Step 1: The Camper will navigate to the Campground Booking page and create a reservation for their desired dates
Step 2: After entering in Reservation Details and Camper Information they will navigate to the Payment Information page
Step 3: On the Enter Payment Info page, the Camper will enter their Payment Details and check the 'Save card on file for future use?' box