Personalize how you configure and charge utility fees at your park within your RoverPass Owner Portal! Simply apply these fees to your guests monthly invoices to collect payment.
Setting Up Utility Fees:
Step 1: Login through the RoverPass Owner Portal Sign In Page
Step 2: Click the 'Long Term Fees' tab on the left hand navigation bar
Step 3: Click on the 'Utilities Fees' tab
Step 4: In the 'Do you want to charge an electric fee' section, toggle the button over to 'Yes'
Step 5: In the 'Fee Type' section, choose how you would like to bill your guest for their electric:
Step 6: In the 'Method' section, select how you charge guest for their utility usage:
Dollar
Kilowatt
Meter Read
Step 7: In the 'Price/Kilowatt' field, you will enter in the amount per Kilowatt you charge for electricity usage
Step 8: Click the blue 'Save' button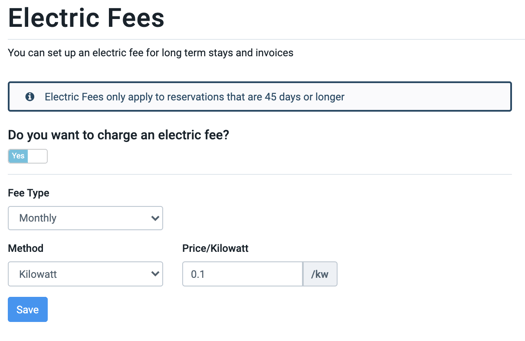 Now you are all set to start charging for Utility Fees on your Monthly Invoices!
Charging Electric Fees on Invoices:
Step 1: Login through the RoverPass Owner Portal Sign In Page
Step 2: Click into the 'Invoices' tab in your left hand navigation bar
Step 3: Select the guests invoice you are looking to add the electric fees to
Step 4: Once you have opened the invoice, in the 'Item' section, click the blue '+add electric fee' button
Step 5: Here you can adjust the Electric Fee Calculator according to the usage and method used at your park
Step 6: Once you have entered in your Meter Readings or Price/Kilowatt, click the blue 'Save' button
Step 7: Check over the electric fee added to this invoice, if all looks good, click the 'Save' button next to the Electric Fee line item
Step 8: Now that you have added the electric fees, you are ready to send this invoice over to your guest by clicking 'Send Invoice' in the top right corner