This article will discuss the difference between the payouts and direct deposit payouts reports on the RoverPass owner portal.
Payouts Report

This is a list of all payouts, both direct deposit and checks, the report will look the same for both payout options.
Shows the payout and breaks down the processing fee, name of camper and dates of stay.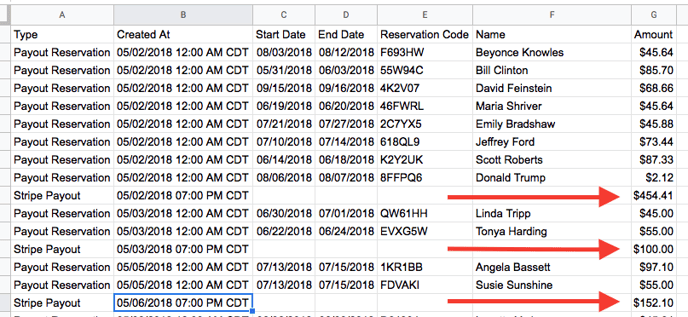 Direct Deposit Payouts Report
The direct deposit report only shows payouts for campgrounds who have direct deposit enabled. Check payouts will not have this report.
Lists the payouts individually, and then the total amount deposited. Also lists any refunds issued due to cancellations, which will be deducted from your payout.
Lists the payout amount but not the processing fee.
Column B lists the date and time the funds were transferred to the designated bank account.
The line that says "Stripe Payout" is a sum of all payouts in the one deposit.