A quick guide on how to import existing ticket sales into your event ticketing portal
Your ticketing portal can accept large uploads of tickets sold and their additional information. This can be done by a single event or by a single ticket type.
To begin this process, put all of the ticket sales you'd like to import into a CSV file. The first column in the file should be titled "Ticket Number", but every column after that can be whatever information on the ticket that you'd like to import. The most common are:

Attendee First Name
Attendee Last Name
Attendee Email Address
Attendee Phone Number
Ticket Status (purchased, checked in, canceled)
The next step after preparing your CSV file with ticket data is to begin the import. You'll use your event ticketing portal's admin view to access Orders>Bulk Change.
Your screen will look something like this: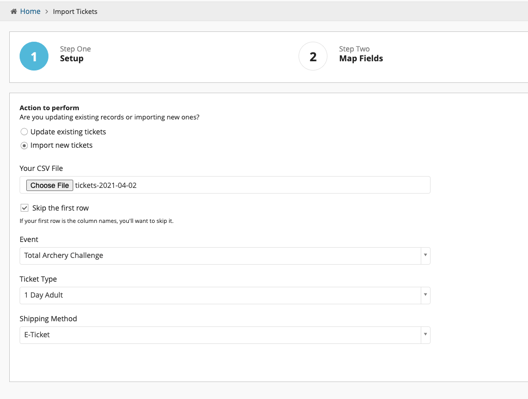 You'll then select the option to import new tickets. This allows you to import new ticket data.
If you select update existing tickets, you'll need the ticket numbers listed already in your event ticketing portal for the tickets you are trying to update.
Once you've selected your CSV file, the event, and the ticket type you are importing for then you can proceed to the next step; Mapping.
In Mapping, your screen will look similar to this: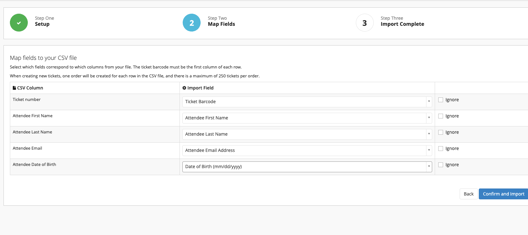 You'll select which of your columns matches the proper event ticketing portal field so that the data uploads into the proper areas.
If you plan to upload Questions you will need to create the Question first before you begin the import process. To learn how to create a question, click here.
After assigning each column to a portal field, you can complete your import. The system will display a green "Import complete" message with the summary of the imported details once an import has been successful.
Your imported tickets will be available to review by going to People>Customers and sorting by the fields that are tied to your imported event.