This article will discuss how to update Monthly Rates for long term reservations in the RoverPass Owner Portal
Setting Up your Monthly Rates for Long Term Reservations
How to Enter in your Monthly Base Rate using the Rate Editor tab: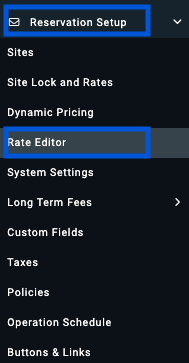 Select the 'Reservation Setup' tab on the left hand side
Click on 'Rate Editor'

tab

Click 'Expand' on the 'Pricing' that you need to add/edit a monthly rate on.
Click 'Adjust Monthly Pricing'

Enter in the

monthly rate

for site type you selected. You can enter rates for each month of the year individually and the overall Monthly Base Price you wish to set.

Click 'Save'
Things to Note: The pricing logic for monthly reservations is noted below. Please keep in mind we selected these monthly rate options to give our Owners several different configurations that would work for their park. We serve many Campgrounds and Owners across the country and do our best to accommodate every park's unique pricing options!
Monthly Pricing Breakdown:
Monthly rates are used to calculate rates for stay longer than 30 days.
Since most bookings of 30 days or more cross over multiple months, monthly proration will apply. The exact monthly rate applies from the 1st of the 1st to any month.
Please see how prices are calculated below.
Number of Nights in Reservation
Pricing Logic in Platform
Less than 30 nights
weekly + nightly rates will apply
30 nights

The exact monthly rate applies for 30 day months. For 31 day months the rate will be calculated based on a proration of the monthly price or (in the event of a reservation that crosses months) a combination of the prorated monthly prices for those particular months.

(Proration Calculation: Monthly Rate ÷ 31 × 30)

Between 31-44 nights

(not starting on the 1st)

The monthly or prorated monthly rate will apply to the 1st 30 nights, then nightly or weekly rates apply.
45 nights +

Monthly rates apply on a prorated basis.
How -To Video: Adjust your Monthly Pricing Rates: