Here's a peek at what the Camper Reservation Confirmation page looks like, when it is sent to a camper after they have finished booking their reservation. Follow these steps below to access a campers Reservation Confirmation page!
How to Navigate to the 'Reservation Confirmation page' on a reservation from your Owner Portal:
Step 1: Login through the RoverPass Owner Portal Sign In Page
Step 2: Select the 'Reservations' tab on the left hand side toolbar
Step 3: Click on the Campers Reservation you would like to see the Reservation Confirmation Page for (you can search a reservation by last name or reservation code)
Step 4: Now that you are on the Campers Reservation, scroll down to the 'Details' section
Step 5: About 3/4's of the way down on the 'Details' section, find the line that says 'Confirmation Page'
Step 6: On the 'Confirmation Page' line, click on the red text that says "Click to Open..."
Step 7: A new window will pop, this page will be a copy of the Reservation Confirmation page that was sent via email to the camper at the time they booked their reservation.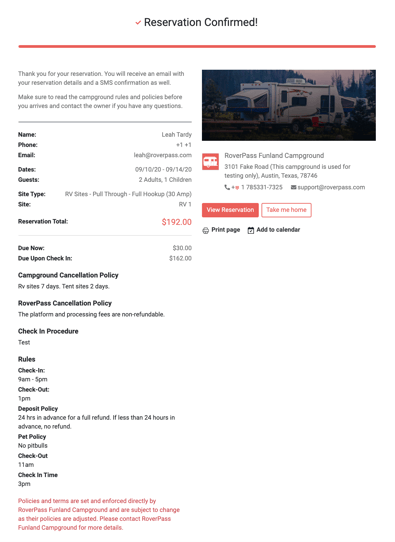 Video:
What can I use the Reservation Confirmation Page for?
The main thing this page is used for is to send the camper a confirmation of the reservation they booked along with what they can expect when arriving at the campground for their stay. Here are some other examples of what you can use this page for:
If you need to print a "camper friendly" receipt for the guest after they arrive to check-in
If you need an easy place to access a certain camper's contact information (phone number/email)
If you need an easy place to access a camper's rig information, check-in/check-out date, or site type they selected